C RX System
C RX System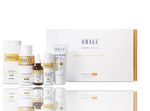 Obagi-C RX System
With Obagi-C Rx, you're on your way to healthier, refreshed, revitalized skin from cell to surface. Obagi-C Rx Systems promote skin rejuvenation from the inside out to reduce the appearance of hyperpigmentation and age spots, combined with 10% L-ascorbic acid (Vitamin C) -the only topical antioxidant proven to stimulate collagen synthesis and protect your skin by minimizing future skin cell damage.
Obagi-C Rx Systems are ideal skin care if you have...
- Minimal fine lines
- Minimal unevenness of skin tone
- Mild hyperpigmentation and minimal age spots
- Intolerance to, or are not ready for, more aggressive anti-aging regimens
- Dry, normal, oily, or even sensitive skin
Why Choose Us?
We will give you our VIP 5 Star Customer Service.
You earn Rewards Points for every dollar you spend.
You earn Rewards Points for referring your family and friends.
Our site is hosted by Yahoo! that uses the highest encyption available to protect your information.
We usually ship your order the same day if you order by 9:00 AM Pacific Monday through Friday.
We give you free shipping when you spend $48 or more on your beauty products.
Your order usually arrives within 2 - 5 business days.